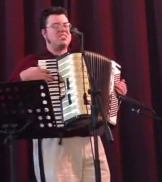 Vell, Thexalon's just zis guy, y'know?
OK, you probably wanted more than that if you bothered to click on this, so some more specifics:
Thexalon's pagan credentials largely come from his association with Ar nDriacht Fein. He has been an officer of Cleveland OH-based Stone Creed Grove since 2013, managing their website, newsletter, and business minutes, and more recently the treasury, as well as regularly running rituals. For ADF's international organization, he serves as the Heartland Regional Druid (covering the states of Ohio, Indiana, Kentucky, Tennessee, West Virginia, and the western portions of New York and Pennsylvania), and is currently the ADF Bard Laureate.
Thexalon also has an extensive musical background. He is classically trained as a composer by way of the Oberlin Conservatory, with pieces for solo instruments, chamber ensembles, choral groups, wind bands, and orchestras, and has performed classical works on instruments ranging from trombone to violin. As a folk performer, he focuses on instrumental playing for the contra-dance community, leading many of the contra-dance bands in the northeast Ohio region. And among pagan folk, he is known for accordion-accompanied original songs and parodies, poetry, and stories.
Thexalon makes his living as a freelance software developer.